Canadian. Hearing. Excellence
From the welcoming smile to the exceptional service and perfectly fit hearing solutions, you can be sure that no matter which Audibel practice you visit, you'll always get the care and attention needed to advance better hearing. You can be sure you'll experience:
Hearing. It's all we do.
At Audibel, we know the importance of hearing because we see how it impacts people every day. Helping people hear better is all we do. It's all we've ever done. Hearing is our passion, our focus and our purpose.
Excellence. It's how better hearing happens.
From our training to our people to our products to our offices, we go to great lengths to ensure excellence is in everything we do – so you can be confident you'll get the service and solutions needed to make a real and lifelong difference.
Platinum Promise
The Platinum Promise is a result of a collaborated effort to ensure Audibel provides premium customer care.
It's our way of delivering peace of mind to every person who seeks our help – by letting them know that Audibel is dedicated to setting the industry standard of what patient care really means, and that they expect Hearing Excellence no matter which Audibel office they visit anywhere.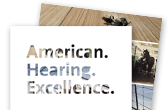 American. Hearing. Excellence.
Download PDF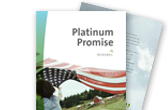 Platinum Promise
Download PDF